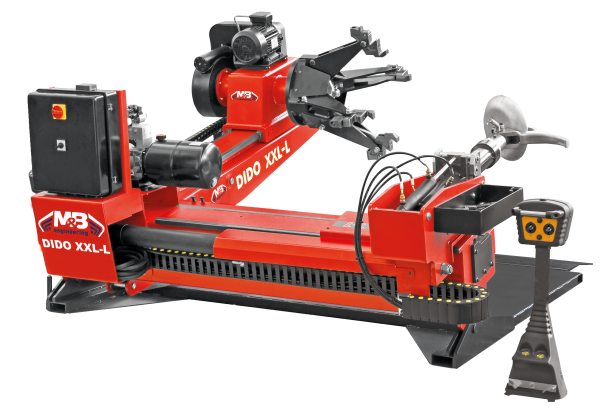 Super-automatic electro-hydraulic tiyre changer with double reinforced frame designed for truck, bus, agricultural vehicle and earthmover wheel.
Synchronized carriages movement designed with "always in tangence" technology, disc and tool are always in the correct position, tangent at the edge of the rim, to ensure rapid operations and safeguard both the tyre and the rim.
Universal 4-jaw hydraulic self-centering chuck, developed to clamp all types of rims from 14" to 42" (up to 60"using the optional extensions). The jaws has 5 clamping points to ensure an optimal clamping of any type of rim. The spindle has two rotation speeds in both direction. Central hole minimum diameter clamp: 115 mm.
Fully automatic tool arm, both in lifting and in rotation. Possibility to operate with a free disc (not locked); in this way, the disc is always in the optimal working position, with less effort for the operator and faster in execution.

---
STANDARD CONFIGURATION

---
TECHNICAL DATA