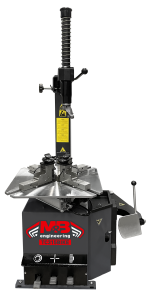 Semi-automatic tyre changer with horizontal moving arm, suitable for motorcycle wheels with a 
rim size from 3.6" to 22".

Swing arm for easy installation even in small spaces. Vertical arm lever locking with spring return of the rod. Knob for lateral positioning of the tool with respect to the rim.
Mounting head specifically designed for motorcycle wheels.
Square turntable with locking capacity up to 22". It is equipped with different clamping positions to optimally tighten any type of rim.
Bead breaker with double-mouvement and fixed blade to operate on wheels of 10" in width.
Removable pedal unit for easy maintenance. Three pedals aligned in the front.
Prepared for the connection of the tyre inflating gun. For a tyre pressure up to max 10 bar.
---
STANDARD CONFIGURATION

---
TECHNICAL DATA